Frigate in Esplanade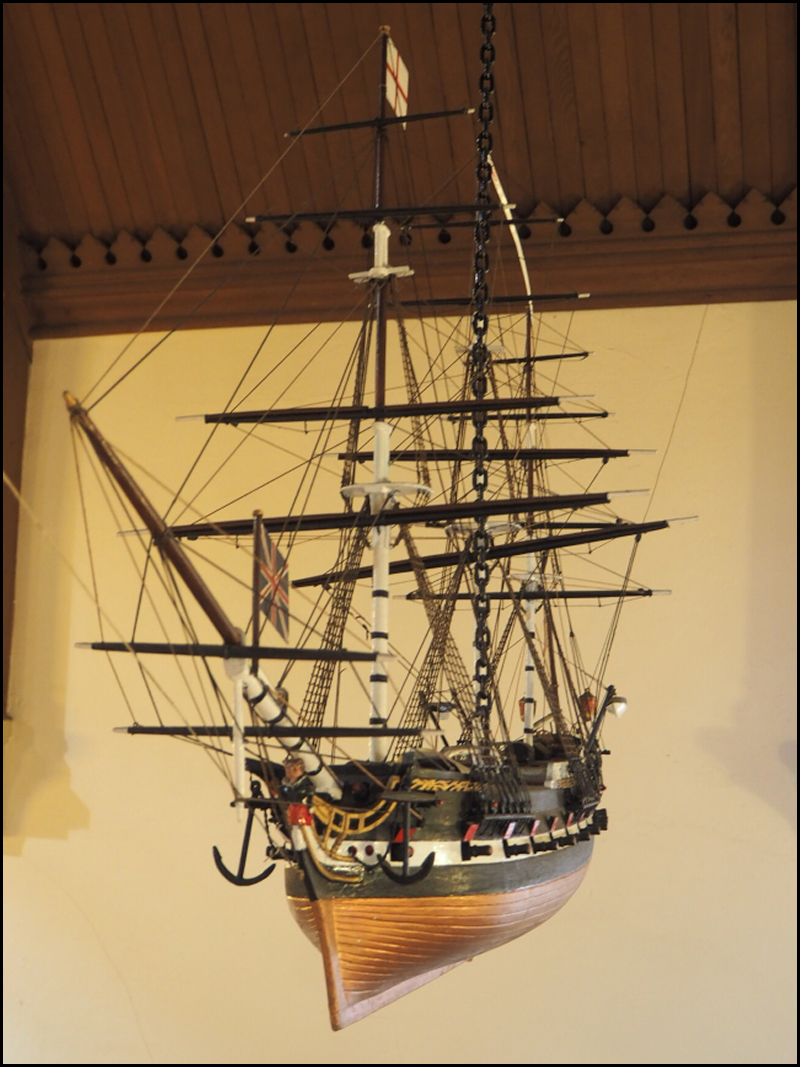 The current Frigate has been hanging in the former Old West Kirk,  since 1864 which is the third or fourth replacement since the first one disintegrated in 1856 when the church was condemned. Mr Roberts Steele, shipbuilder offered to give a new ship for the Sailors' Loft in the restored church in exchange for the old frigate, but on being taken down she fell to pieces from dry rot. The wreck was for a long time deposited in the New West Church (currently called Westburn Parish Church). It is believed that the very first ship was carved from a piece of the wreckage of a galleon from the Spanish Armada of 1588.
In 1957 the current model was completely overhauled, cleaned, re-rigged and repainted by Commander James Munro of a Princes Pier, one of our members. Before the model was restored to it's usual place, he inserted through a stern post a mall sealed package which contains 3 short newspaper articles concerning the frigate. At the same time, a message for future generations, written and signed by Mr Morrison contained in an aluminium tube, was lashed to the deck.
The message states:
"This model frigate was partly re-rigged and re-conditioned by Commander James Munro of a princes Pier. Commander Munro's father did likewise around 1926, before the church was re-opened on the present site at Seafield. The late Archie Munro got Dan McNeill, a model maker in Caird's Yard to replace the rigging that had perished but left what was in good condition. Commander Munro followed his precedent, so now the little frigate has 3 periods of rigging which an expert can trace. For a short time the frigate was placed on the Cutty Stool in front of the Communion Table and was the theme of an address by Mr Morrison to  the Youth Organisations. It was also used for an experiment by the Minister when he organised a Saturday morning painting competition for the children. Twenty young people, ranging in age from five to twelve years took part in it, and the prizes for the competition were presented by an anonymous donor"